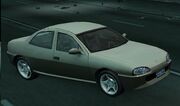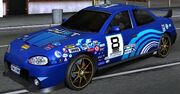 The Kramer is a common 2-door car that only appears in the 2006 era of the game. It has average performance, top speed is about 85 in game. The car resembles a Subaru Impreza wrx except for the headlights. This is even more apparent on the racing version which has a similiar spoiler, rims and paintjob to the real life Subaru Impreza wrx rally car.The racing version is unlocked after beating the hard level on the Hunt's Point track in 2006. Top speed for the racing version with stage1 engine is 121 in game.
Ad blocker interference detected!
Wikia is a free-to-use site that makes money from advertising. We have a modified experience for viewers using ad blockers

Wikia is not accessible if you've made further modifications. Remove the custom ad blocker rule(s) and the page will load as expected.