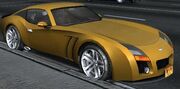 &nbsp
The Teramo is a sports car in Driver Parralel Lines.It only appears in 2006.It is very fast and has good handling and acceleration too. Top speed for a stock Teramo is 110 in game. It is based on a TVR T350C.
A special version of the Teramo called the "Ram Raider" is used in a mission of the same name, It is basically a Terammo with armor plating, making it completely bullet-proof,even though it would probly be heavier then the normal Teramo, the stats are the same. The Ram Raider can be kept after the mission simply by storing it in your garage. It sort of looks like a car from the movie Death Race.
Ad blocker interference detected!
Wikia is a free-to-use site that makes money from advertising. We have a modified experience for viewers using ad blockers

Wikia is not accessible if you've made further modifications. Remove the custom ad blocker rule(s) and the page will load as expected.