Good Points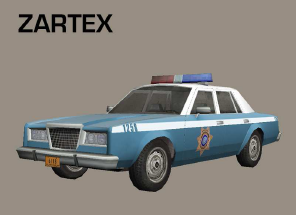 The Zartex is the main police car when in the 1978 era, as it is replaced in the 2006 era with M700, The Zartex goes through a lot of pain as it is always getting smashed to pieces. It has great handling and a top speed of 105mph or 169km/h. This car is good for caching bad guys in a police chase.
Bad Points
The Zartex isn't at all durable for example, if you ram into it a 3 or 4 times the engine will steam instantly, this is one bad thing about the game they made it so its really easy to shake of cops, not so good if your the type of person that loves high speed chases that last all day.
The Zartex has probably been based on the 1978 Dodge Diplomat
This car also featured in Driv3r also as a police car in miami.
Ad blocker interference detected!
Wikia is a free-to-use site that makes money from advertising. We have a modified experience for viewers using ad blockers

Wikia is not accessible if you've made further modifications. Remove the custom ad blocker rule(s) and the page will load as expected.